Learning made easy for you
Each course we design has a learning path to take your skill to the next level for your professional growth.
Choose the course which suits your present role, enhance your skill, and gain confidence in your safety skills
with our role-based learning paths.
Choose
the course that matches your present role
Enroll
in the course in just 3 steps
Learn
from the course instructor, mentor & coach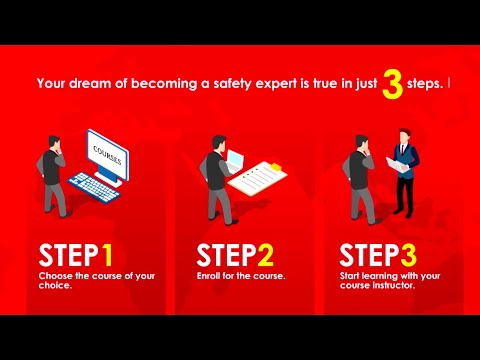 How to Enroll?


Choose the course which suits your present role, enhance your skill, and gain confidence in your safety skills with our role-based learning paths.
---

Learning was never so easy
Search Course
Every course we offer will help you develop the professional knowledge required for the corporate world. Simply choose the professional development course of your choice from the course list and enroll.

Mentorship
Every course has mentors who can help you learn the most important skills corporate wants you should have through regular online classes ( live video classes).

Course Structure
Course material offered is developed by subject matter expert/industry expert from corporate and are constantly updated to reflect the new trends.

Corporate Case Studies
Learning can happen if you get to learn from real-life case studies explaining what went wrong and what should be the corrective action. Every course has more than 15 case studies.

Progress Feedback
At every stage of course progress, mentors help you with their valuable feedback. This will help you stay focused on your learning curve to complete the course and develop professional skills.

Assignments
You will work closely with your mentors on some of the corporate projects to get hands-on experience. This will help you get your dream job with the newly acquired skills.

Certificate
The course ends with a certificate of completion given by your course instructor which you can be displayed on your resume to add weightage to your profile.

Carrier Guidance
Our professional development advisor team can help you find your next dream job after course completion. Launch your dream career by taking online safety courses.
50,000+ companies

look for skill in the candidate as the first choice.

Join us and make your profile look professional.
Showcase your Professional Skill
Complete a course and share your learning path with a course badge and certificate on community profile and social media. 98% of the time professional skills are judged, so use a course badge to show your professional skill to upgrade to the next level.
Learnings
Showcase your learning path.
Badge Earned
Showcase your professional skill badge
Certificate
Showcase your certificate
Instructor Based Learning
Instructor and micro learning is more than simply bite-sized training assets. Every course we offer is based on instructor and micro learning concept . These two pillar makes us unique in our offering our courses for professional development.

Incident-Based Learning
Short incident videos are created as part of the learning process for the learner to understand the risk and to analyse what went wrong in the simulation and gamification form.

Risk-Based Learning
User learns the concept of the risk reduction by applying the control measure to reduce the risk in simulation and gamification form for each hazard.

Search for a course
We have amazing courses in our course library, check them now !